St. Jacobs is perhaps the quintessential road trip destination in Southern Ontario. It is close to many larger centres (Toronto, London etc.) and yet offers a welcome escape from "big city" life. As soon as you visit, it's easy to see why so many people chose St. Jacob's as an escape destination.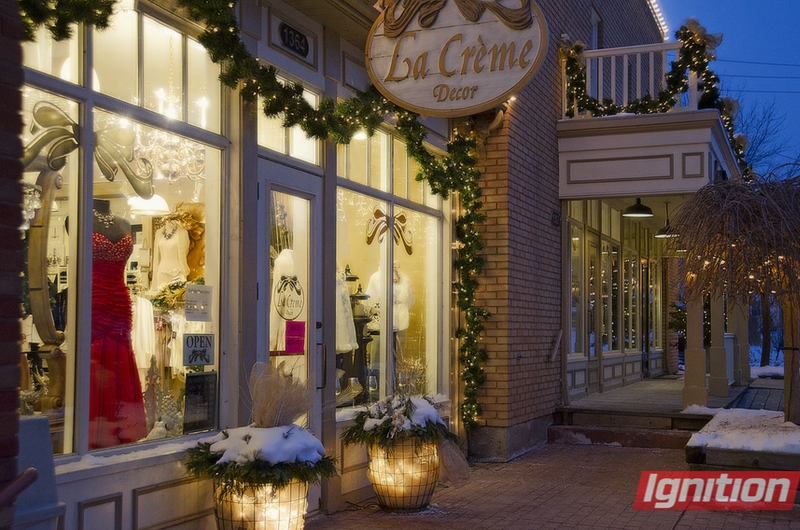 Our trip to St. Jacobs began with a longer-than-normal drive on a Friday evening. Although the road was busy, we chose to avoid the delay and took a slower (but more scenic) selection of regional roads to the region. While the route wasn't fast, it was a great way to immediately get into the more laid-back rural pace.
Our escape proper began on Saturday morning with the renowned St. Jacobs farmers market. The market, which attracts more than a million visitors a year, was reopened in 2015 after a fire destroyed the original building in 2013. The new space is larger, with wider aisles and more vendors. The main building feels light and welcoming, even in the crush of a busy Saturday morning. The vendors inside the main building are mostly butchers and bakeries. There are also a number of prepared food vendors – the apple fritter restaurant is especially popular. When we visited the line was well outside the building and people were expecting to wait at least twenty minutes. In the summer and fall months there are hundreds of outdoor vendors as well, with everything from leather goods to produce. During the fall harvest you can get every imaginable kind of apple and more varieties of onion and potatoes then you might know exist. The highlight on our last trip was the basil vendors, who had large bundles of basil (complete with roots and dirt attached) for two dollars a plant. The Market Barn, which opened in 2013, is also worth a visit, with some delicious bakeries and excellent maple sugar options.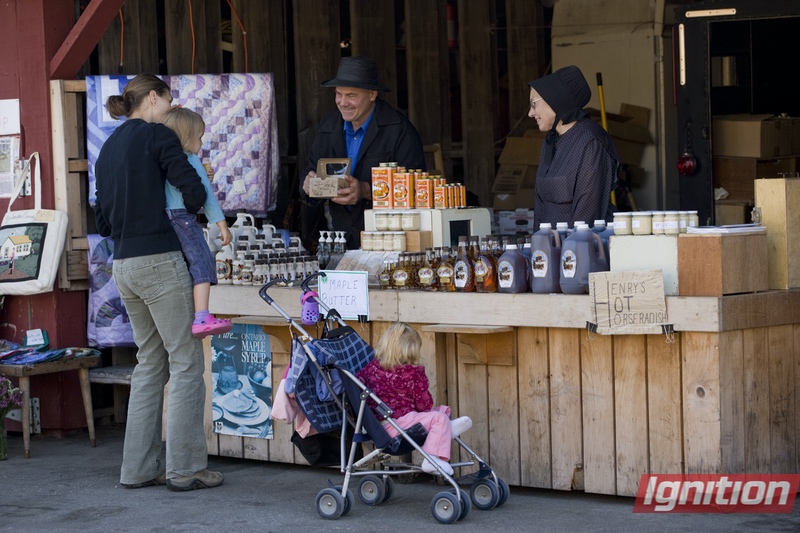 After enjoying the market, we travelled to the picturesque downtown to enjoy a lunch at the Stone Crock restaurant. Right on Main Street, the restaurant offers traditionally prepared items and a lunch buffet that includes a salad bar with local vegetables. After a filling lunch we made our way over to Block Three Craft Brewery, a short stroll towards the river. Block Three opened in 2013 and offers a range of beers including the lovely King Street Saison.
After exploring downtown we decided to explore the Kissing Bridge trail. Formerly a rail corridor, the trail is now used for a number of outdoor pursuits including biking and snowshoeing. Part of the trail also allows snowmobiles. In addition, the trail includes a 2 km detour that takes guests through the last covered bridge in Ontario! For dinner we decided to try Anna Mae's in Millbank. The simple Mennonite style cooking uses local meats and produce and compared very favourably with a number of restaurants we have tried in Pennsylvania Dutch country.
https://www.instagram.com/p/BqSemuKFkrv/
The St. Jacobs region is full of Ontario gems waiting to be explored. From trails and restaurants to markets and Main Streets, it is hard to squeeze it all into one weekend. In addition St. Jacobs has many events throughout the year, welcoming visitors to their fall harvest festivals and Christmas season offerings. The warm hospitality and the year-round market make it an enjoyable destination no matter the season.